Hair & Scalp Healing Oil - Natural Oil Treatment to Repair Dry Hair and Tame Frizzy Ends
$24.95
Hair and Scalp Oil treatment for added strength and shine, moisture for dry scalp and brittle ends, and overall care.
Gloss & Toss® Hair & Scalp Healing Oil is the perfect hair and scalp oil for any professional or at-home moisture treatment, hot oil treatment, repairing damaged hair, and is great for all hair types. This all-natural formula was created for customers just like you to repair dry hair, tame frizzy ends, keep hair and scalp looking and feeling its best day in and day out. It was named a Holiday Gift Guide Must Have by top beauty editors and bloggers nationwide. Hair and scalp treatments are essential for beauty routines and for optimal health of hair and scalp. When used on a routine basis, hair will have a more responsive nature, obtain smoother results when styling, and keep a healthier look and feel not to mention the benefits of color retention.
SWEET ALMOND OIL QUICKLY PENETRATES HAIR TO PROVIDE MOISTURE, STRENGTH AND SHINE!
Benefits of Gloss & Toss Hair & Scalp Healing Oil:
Replenish moisture to hair and scalp while adding shine and luster
Build strength and elasticity to hair
Repair split ends
Stimulate circulation

Add condition and manageability to hair
and so much more.
This conditioning hair oil is ideal for:
Routine moisture treatments, shine treatments for hair, dry itchy scalp, and so much more. Also great for other body parts to help add moisture and soothe skin. In fact many Mani/Pedi experts use this all natural treatment oil for their manicure and pedicure services.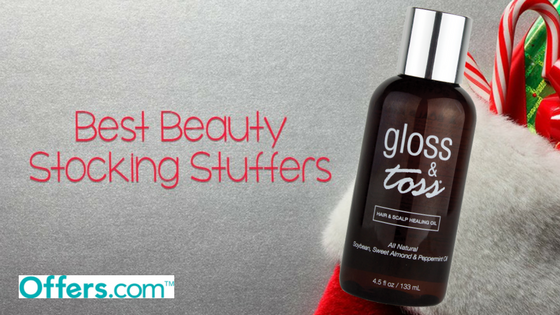 VOTED A BEST BEAUTY STOCKING STUFFER FOR 2016 on OFFERS.COM blog.
Distinctions:
ALL NATURAL
No added dyes or colorants
No added perfumes
All natural peppermint oil provides invigorating results
INGREDIENTS:
Soybean Oil - Provides moisture retention, and helps "carry" moisture treatment to hair

Sweet Almond Oil - Rich in Vitamins A, B1, B6 & E to strengthen hair, add shine and manageability

Peppermint Oil - Helps rejuvenate and has been recognized and used globally to treat various hair and scalp conditions

This all natural product is great for dry/damaged hair year round, routine beauty add-ons, as well as giving an invigorating scalp massage.
TO USE: Apply a full palm amount and massage into hair and scalp paying close attention to damaged sections of hair. For best results, leave on for 3-5 minutes. You may also add a few drops to your preferred Gloss & Toss® conditioner for an at-home deep moisture treatment. Shampoo clean and condition as needed.
For an added hydration treatment, wrap moisture mask (conditioner + Hair & Scalp Healing Oil) in a warm wet towel and leave on for 5-10 minutes.