Detangle & Multi-Use Brush - Best Results for Detangling & Styling Hair Wet or Dry
Achieve best results in detangling and styling hair with The Gloss & Toss Detangle Brush.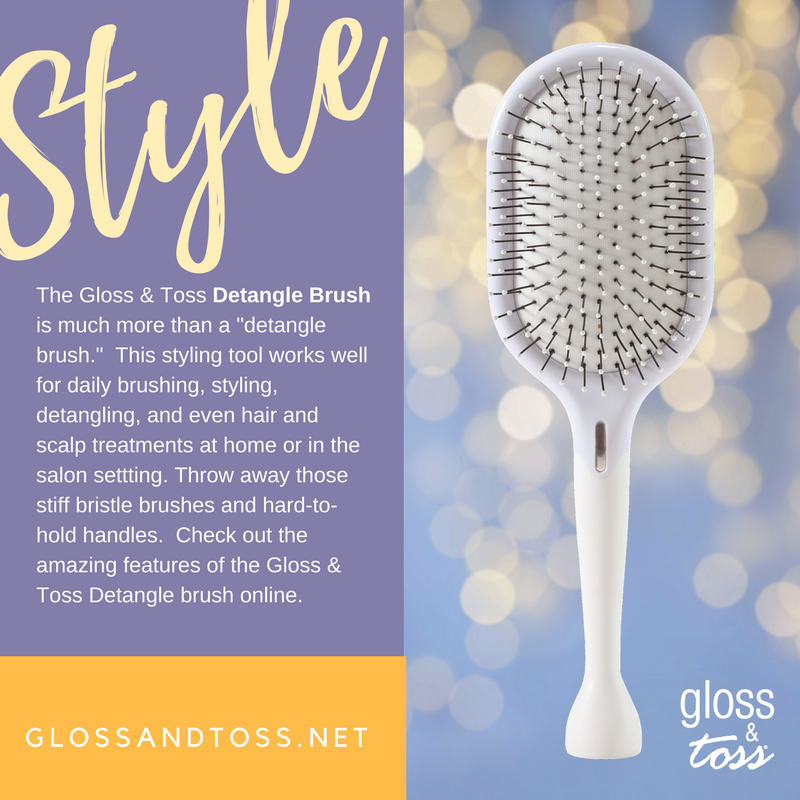 The Gloss & Toss Detangle Brush is more than its name. It is great for all hair types and safe for extensions. Reduce stress, tension and breakage on hair with this professional hair brush available online. Leading hair stylists agree - the Gloss & Toss Detangle Brush is a must-have for every beauty routine and is perfect for detangling hair, general brushing, hair treatments and more! A red carpet favorite, this lightweight gentle detangler is loved by celebrities and leading hair stylists.
BENEFITS OF THE GLOSS & TOSS DETANGLE BRUSH:
Save time when detangling and brushing
Reduce discomforts of routine hair care
Minimize harsh pulling and breakage with this professional styling tool
Light-Weight design makes use easier and more comfortable
DETAILS:

170 Ultra-flexible and durable bristles provide flexibility and comfort during detangling and day-to-day styling and is more comfortable than other "detangle brushes" on the market

Our classic, light-weight & durable design is a must-have for your haircare routine

Holds up to day-to-day detangling and brushing

Massage round tips help create

more

comfort during use




Padded cushion gives ease-of-movement during brushing and more comfort to scalp




Our ergonomic "easy-grip" handle prevents slipping and allows for more comfortable use




Stand-up design

enables you to stand brush in upright manner to dry after use

Softer flex-type bristles also work well with extensions
BEST WAYS TO DETANGLE HAIR:
Manually separate hair in half, gently parting hair into two sections.
Repeat the first step above, manually separating sections into halves, and those into halves, etc. Do this until you have 6-8 sections to work with, or until you feel hair is more manageable and easier to work with when detangling.
To detangle, begin brushing hair at the bottom of sections and work your way up to the scalp area. By starting at the bottom, the tangled portions are able to drop out so you can move up to the next section smoothly.
Our detangle brush has been so well received it was featured in
Hollywood Swag Bag
events honoring SAG AWARDS and OSCARS nominees.
OTHER RECOMMENDED PRODUCTS:
Gloss & Toss® PREP

- a light-weight leave-in conditioner (spray) that delivers smooth, silky results to hair. for best results before wet-brushing and detangling. Silk amino acids, horsetail and aloe all help smooth hair, add strength and shine, and protects against environmental damage.




Apply

Gloss & Toss® SHINE

- for the perfect blow-out or for any wash

and

wear look. This light-weight serum does not feel greasy nor heavy, and delivers beautiful results to hair.



Hallmark Home & Family Show
- Wintertime hair tips and how to get the perfect blow-out
KCAL News at Noon
- How to get the perfect blow-out
Wall Street Select
- Celebrities get red carpet ready with a little help from Gloss & Toss Hair Care.
Ask.com -
covers our
Detangle Brush
for red carpet swag events in Hollywood
Los Angeles Daily News
- Celebrity Swag for SAG AWARDS and OSCARS include Gloss & Toss Detangle Brush