Bridal Beauty 3 Piece Set - Wedding Hairstyle Gift
$59.95
Bridal Beauty 3-Piece Gift Set for Wedding Hair Style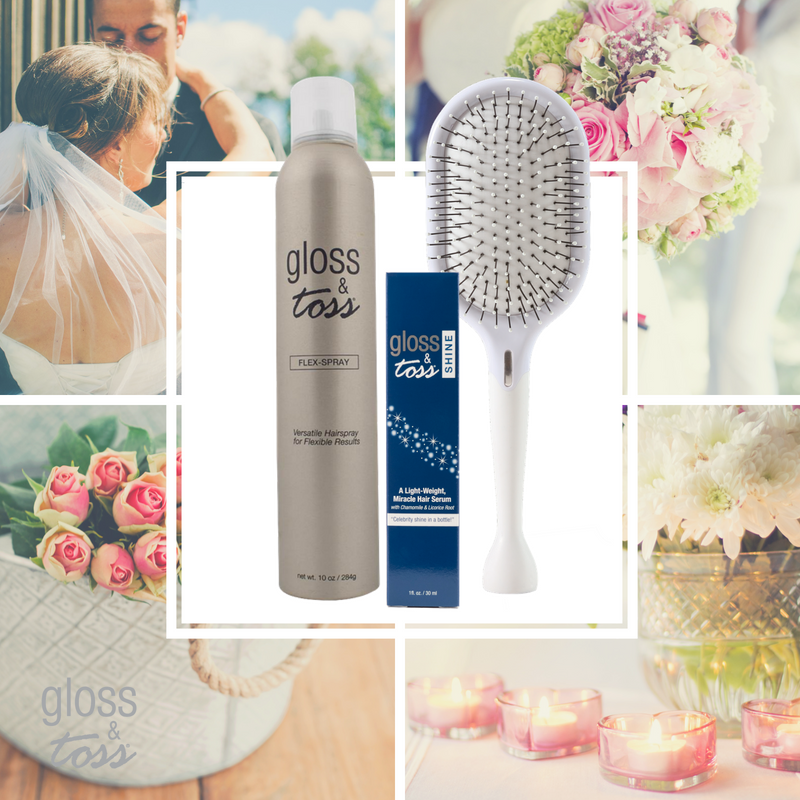 Wedding hair and bridal beauty planning are an important part of every wedding (and special event). Wedding hairstyles and bridal hair (styling tutorials) are found in countless pages of today's top magazines and websites and are a great resource for brides and beauty seekers when it comes to creating beautiful "do's" for wedding day.
Scheduling hair and makeup appointments for all bridal participants or attendees can be quite costly and nearly impossible. So if you're booking hair and makeup for the bride only, you can still give the gift of beauty with the Gloss & Toss Bride 2018 3 Piece Hair Care Set to be sure everyone experiences and feels part of that beauty element of your special day.
Finding the perfect bridal hair and makeup for your wedding day.
Many times travelers leave behind their favorite beauty items for the sake of a gift or other bring-along and they arrive at their destination longing for their favorite hair care items. So gift the gift of beauty with this amazing 3 piece set from Gloss & Toss that will have your attendees or participants feeling gorgeous.
The Gloss & Toss Bride 2018 3 Piece Bridal Hair Set Includes:
Detangle Brush - An amazing brush for detangling hair, smoothing ends, and keeping hair soft and healthy. This detangler brush does not pull or tug and is great for detangling, general brushing, styling hair and even conditioning treatments. 170 ultra-flexible bristles, lightweight stand-up design, comfort grip handle and more.
Shine Hair Serum - For smoothing hair, speed up blow-dry time, fight frizz, prevent unhealthy results, and so much more. Perfect for bridal hair beauty, and dealing with impossible weather (or unforeseen splashes) on wedding day.
Flex-Spray Hair Spray - A Workable Hold styling hairspray that does not feel sticky or stiff, yet gives great results. We call it "Spray and Play" results. Style hair, spray as desired, and reapply as needed without hair looking or feeling unhealthy. ProVitamin B5 keeps hair healthy and Flex-Spray also helps prevent humidity and unhealthy looking results when finishing.
For more great bridal and wedding hair tips stay in touch with us here at glossandtoss.net. For individual product descriptions, simply click on the link of the 3 product names and go right to those individual product pages.