Hair Product Reviews and CustomerTestimonials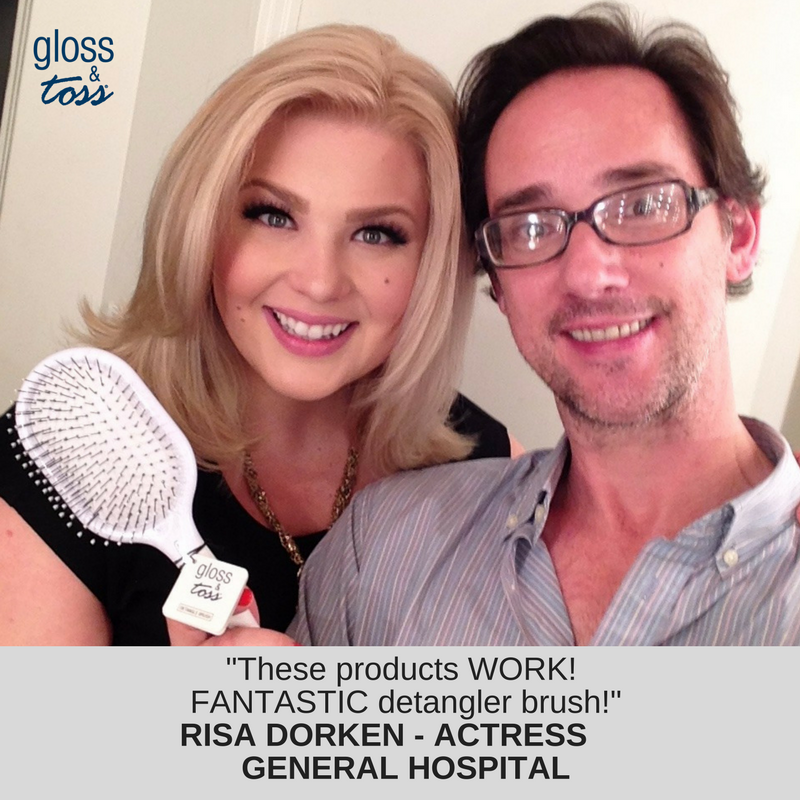 Customers give Gloss & Toss Hair Products the best reviews for their hair care needs.
Product Reviews and News: Gloss & Toss Hair Products provide trusted hair styling results and customers around the world shop online to find their Gloss & Toss Hair Products for their hair care routines. These Red Carpet Hair products have taken front row in the world of hair care and total beauty must haves. Check out some of the glowing testimonials below and see what clients around the world (including those here in Hollywood) are saying about our amazing hair care brand. In fact, Gloss & Toss Hair Products have been used behind the scenes of Hollywood on some of today's hottest television shows, news segments and daytime talk shows.
Customers around the world love Gloss & Toss® hair products and the ease of shopping online as well as our hair styling tips and updates. Plus they know they are buying a trusted hair product coming from the Entertainment Capital of the World. From our Detangle Brush, Dry Shampoo, Hair, Skin and Nail vitamins, customers know that our products rank among the best hair care products online today and we hope you love them as much as we do. The variety of items available to customers as well as product and hair style tips shared by our creative team for your hair care results all help contribute to our mission in demystifying the world of Hollywood beauty and making products and services available for customers everywhere. Here are some of our testimonials below.
Here's what customers tell us they love best:
The convenience of shopping online
Red Carpet Hair Tips and Tricks
The high quality hair care and how hair feels so luxurious
Gloss & Toss remains "approachable"
Education, options and ideas they find online
---


Customer Testimonials

Jessica C - Calabassas, CA
"I can't believe how amazing the Dry Shampoo is. My mom and I both love it!"
Tammy B.
"I love the Gloss & Toss Hair Products. When you're out and about driving the world's hottest tours as we say, my hair has to hold up and products need to be accessible. Why touch up your hair if your hairspray is going to feel sticky in the middle of the day? Gloss & Toss products are perfect for my getting around and I recommend it to so many of our tour customers!"
Founder of LALALandTours.com LaLa Land Tours is one of the best tour companies in Los Angeles, leading touring company in Los Angeles that provides some of the finest and most in-depth tours of Los Angeles and Hollywood. Book online today by clicking the link mentioned earlier.

Sarah B - Denver, CO
"The Root Lift is everything! I absolutely love it and my hair doesn't feel sticky! It gives me lift, fullness and life that my hair needs and it is still healthy and shiny."
PinkySmiles - The Beauty Blog:
I can tell you that I use Shine (hair serum) every time I wash and dry my hair & truly love it. Did I also mention that it was Cruelty Free? This is really the best hair serum around!
Deb N. - New Jersey

I used Gloss & Toss® Shine after a shampoo, and styled it without any additional products. My hair definitely had a brighter sheen. Other products seem to weigh my hair down and the blow-out goes flat. With Gloss & Toss® Shine I got "shine" and long lasting style.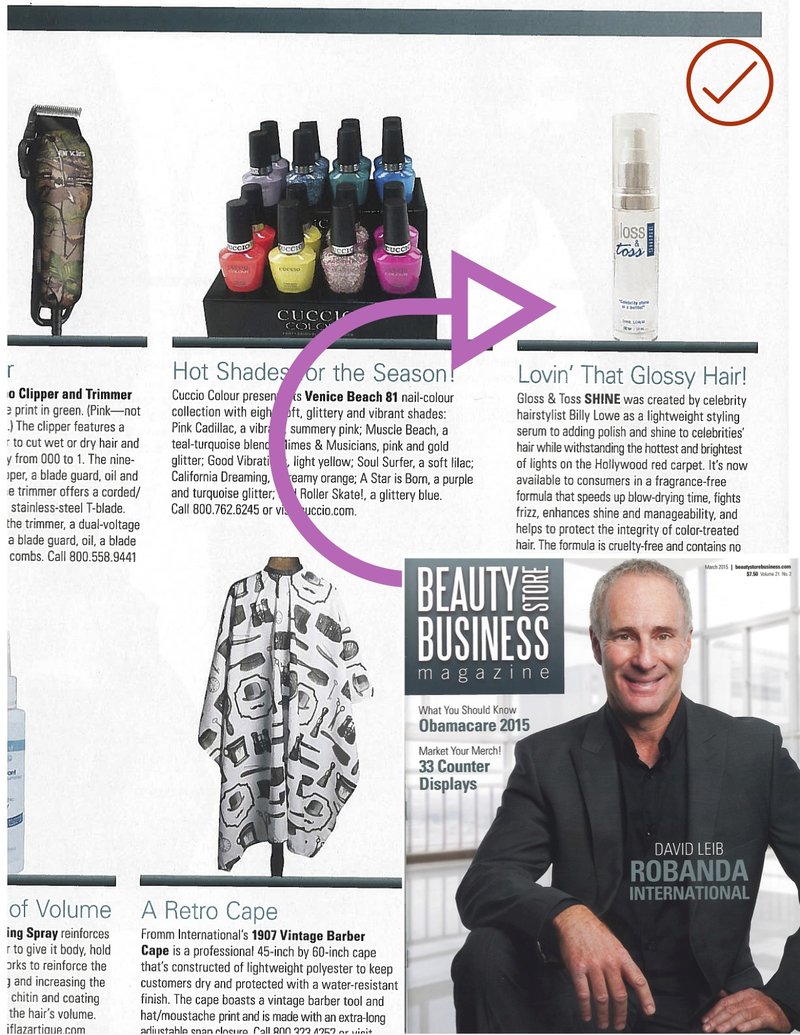 Beauty Store Business
Lovin' that Glossy Hair. .......adding polish and shine to celebrities' hair while withstanding the hottest and brightest of lights on the Hollywood red carpet. It's now available to consumes in a fragrance-free formula that speeds up blow drying time, fights frizz, enhances shine and manageability, and helps to protect the integrity of color treated hair.
Lorenzo D. - Hollywood Hair Stylist

I have to say I've used just about everything. I absolutely love your product and love using it on set. Thank you Gloss & Toss®.

Abbey M. - Online Customer

I've been battling frizzy hair my whole life and this product lives up to its promise -- my hair is shiny, soft and frizz-free. I love this serum and am thrilled that I was able to find such a great product that's also cruelty free.
Wendy A - Online Customer, Founder of Affari Worldwide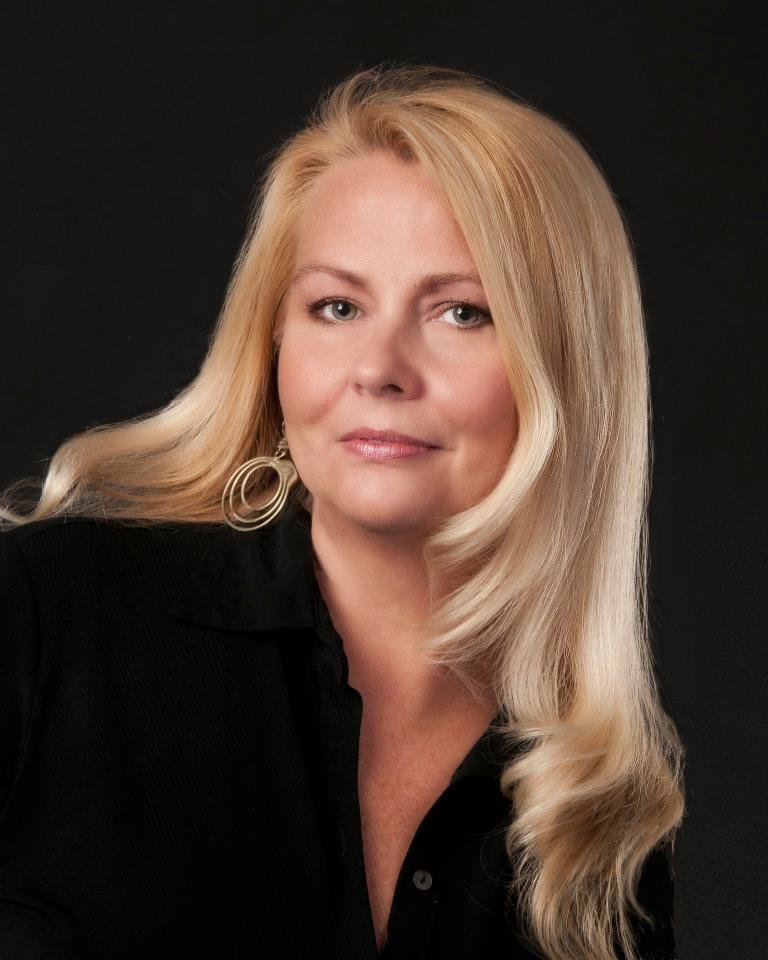 Living in Florida, the weather can wreak havoc on my hair. I had the pleasure of meeting Billy Lowe and trying Gloss & Toss about ten years ago. I have been a raving fan ever since! One of the issues I had with typical products is that they are heavy and leave my hair weighed down and looking dull after a few uses. With the Gloss & Toss Shine Blow-Dry Hair Styling Serum, not only does my hair have bounce and "aliveness," it shines like a Hollywood starlet's! Try it! You'll love it too!"
Affari Worldwide is a global advertising agency in Tampa, specializing in marketing and strategic planning for your business.
Susan S. - Los Angeles:
I sing the Gloss & Toss anthem wherever I go. I just love it!
I have never quite encountered a product that creates such lustrous shine in my hair without greasiness. It is so glossy that I get compliments on my beautiful hair. As for the supplements, I have been taking them for about a month now. I take two capsules each day with breakfast. I have noticed that my hair grows so much faster than it did before. It is also very soft and silky.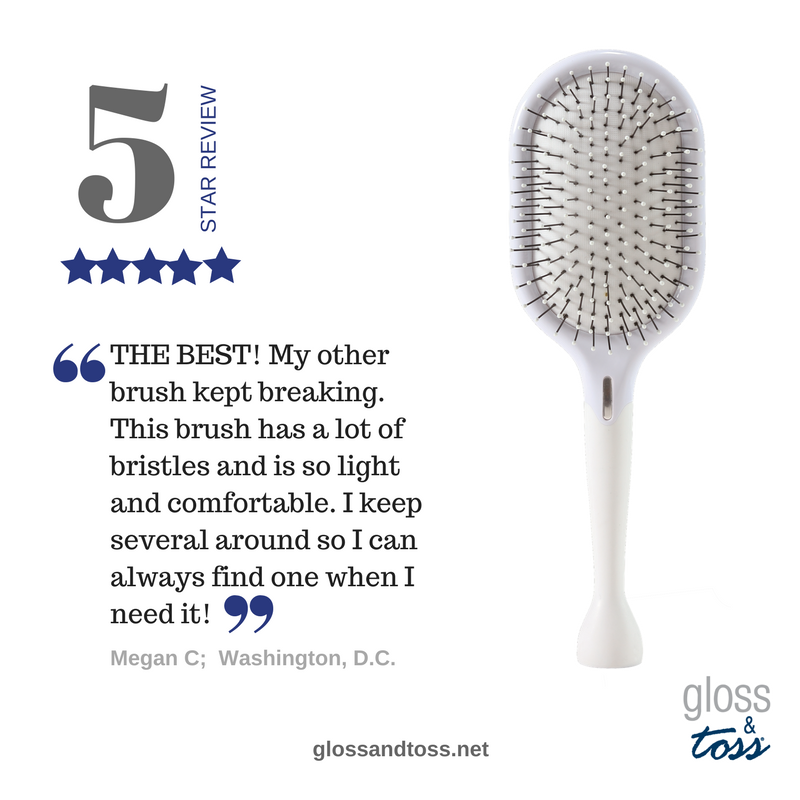 Natalie M - Salon Owner Westlake Village, CA
We love the products. The Detangle Brush is so much better than my Wet Brush® and it is so light weight. The bristles are super flexible and sturdy and they don't fall apart like the other brush. I use the Shine serum and Dry Shampoo all the time.
Jackie A. - Atlanta, GA
I've used several types of shine enhancement products from cheap drugstore items to more expensive private products. None perform as well as Gloss & Toss®. Plus, as an additional benefit, this is a product that was NOT tested on animals. I have stick straight, fine hair that is colored. It gets dull easily and most products weigh it down. This is the first shine product that I've tried that doesn't give me the greasies and cause my hair to look like it hasn't been washed in a month. I've received compliments from a lot of friends about how healthy my hair looks and even my hairdresser commented about it when I went in for my appointment.
Penny Jordan Salon & Spa - Valdosta, GA

We love Gloss & Toss® and our clients do as well. We're selling out fast!
Jennifer R - Hollywood makeup artist & hair stylist
OMG I love Gloss & Toss® Shine serum. It truly makes my work look so good and I think everyone needs this product. I work with a lot of extensions and my girls love it.
Gloss & Toss® Shine is not just a shine serum; it's an actual treatment designed for all hair types. From curly to straight, Gloss & Toss® Shine works overtime to control the frizziest of manes and give immense shine.
Sarah L. - Atlanta, GA
Atlanta weather can be so unpredictable - especially in the warmer months when it is so hot and humid. Gloss & Toss® Shine is perfect for my day-to-day styling and keeps my long hair so shiny and manageable. I fight frizz all the time here in summer and winter and this shine serum really lives up to its name. Everyone always compliments me on my hair and I simply tell them it's Gloss & Toss® Shine hair serum. Love it!
I love how light-weight it is, and my hair looks great and doesn't feel greasy at all with this product. I don't have to use very much at all, so this h as lasted quite a while for me, especially since my hair is only shoulder length right now. The Hair and Nail Supplement has given my hair and my nails a boost......Since I've been using these products my nails have actually grown a little bit, and look healthier.
Amanda M. - Los Angeles, CA
Perfect for my life style..... I just wash, dry and go. I don't style much. This product is great for throwing in my hair to calm down frizz and give it extra shine without putting much work into it.
It's a Glam Thing:
This light-weight velvety hair serum is what sets Gloss & Toss® Shine apart from other serums!
Mytsy V. - Beverly Hills Hair Stylist

This serum is weightless and leaves the hair feeling soft and shiny! I love that it's versatile, works great on wet hair before you blow-dry to help eliminate frizz, and on dry hair to smooth out the ends.