Hair Style and Product Tips
Check out these great hair style tips and techniques using some of your favorite Gloss & Toss hair products. You may need a few extras like hair ties, hair clips, or a blow-dryer but we encourage you to enjoy the process and exploring your at-home beauty routine.
Hair products are not a mystery, but they aren't magic formulas either. To achieve salon looking results, it takes a little
time and effort,
understanding your hair type, and which products/tools you need to use in order to achieve the results you want. If you have any questions, feel free to email us via our contact page. We're here for you.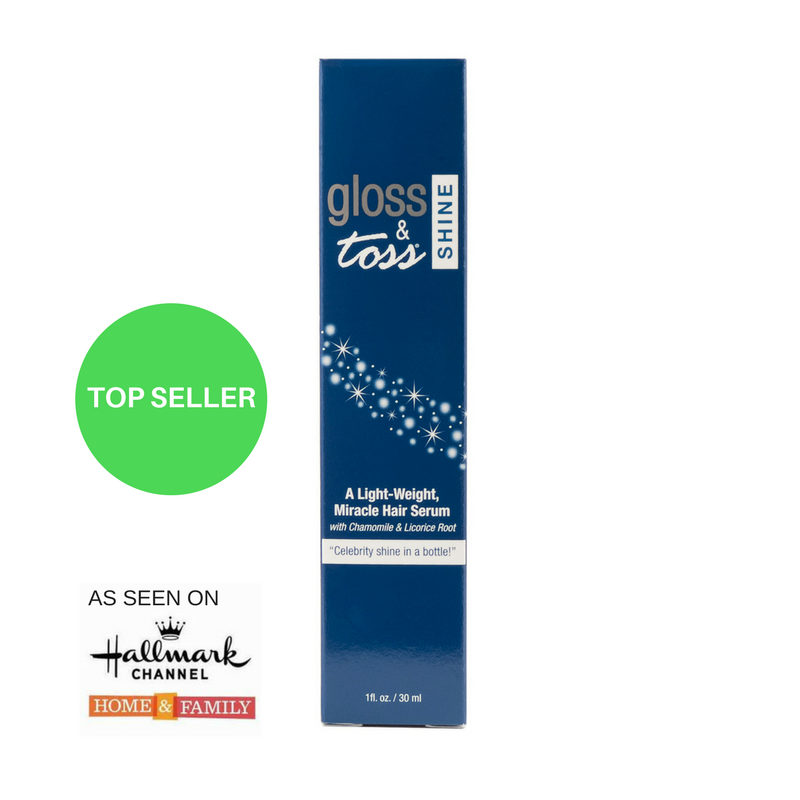 OUR SHINE SERUM:
This is our most popular item and provides outstanding results. If you are new to using
hair serum
, it has the consistency similar to hair oil. So depending on your hair type, start small.
Apply to clean/wet hair, mid-sections to ends, and blow-dry smooth.
SHORT/FINE HAIR:
A PEARL SIZE AMOUNT
LONGER/THICKER HAIR:
1-2 PUMPS depending on hair type
This is a term you'll hear often in the salon when beginning a blow-out. Hair doesn't really begin taking (or holding) shape until it's about 80-90% dry. After applying Gloss & Toss styling products of your choice, we recommend blow-drying hair loosely with fingers until it is about 80-90% dry (for most hair types). If your hair requires extra time or attention as in thicker or wavy hair types, you may need to use your styling brushes a little sooner or you may find your own technique that works best.
GET TO KNOW YOUR PRODUCTS!
Product instructions are guidelines, not concrete instructions.
Every hair type is different and results vary depending on hair type, climate, and other factors. Hair products take personalizing, just like that perfect recipe. Perhaps the first time you used too much or too little or maybe at the wrong time. Keep working with your products until they start working for you. Customers should use product amounts based on individual hair types or needs (and experience) and customize from there. Practice makes perfect and you'll find just the right formula that works for you. Everyone's touch and approach is as different as each individual hair type.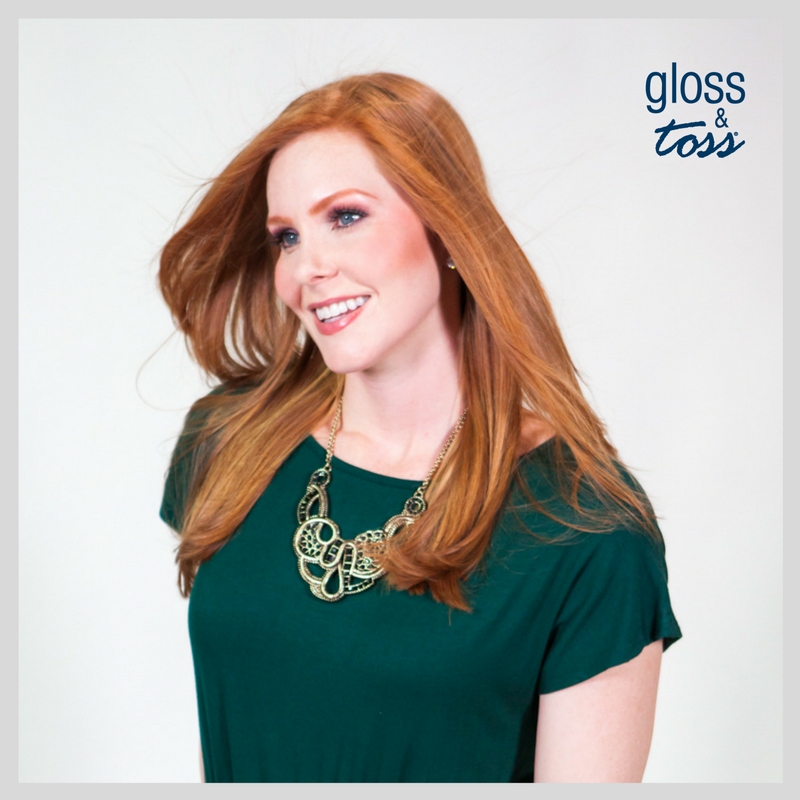 SILKY SMOOTH

The classic blow-out is the envy of many clients. Smooth polished hair, perfected ends, or perhaps just a soft bend for face framing areas. Here are a few tips that you might find helpful when using these Gloss & Toss products.
Begin with clean, damp hair.
-Mist 3-4 pumps of Gloss & Toss
Prep
(more or less based on your hair type) and distribute evenly whilst detangling using the Gloss & Toss
Detangle Brush
.
-Apply 1-2 pumps of
Shine
(hair serum) to palms and apply mid-sections of hair to ends and brush through. Again, more or less depending on your hair type. For short/fine hair types, use a pearl size amount to start with.
-Apply
Root Lift
to crown area for fullness and volume
-Remember hair doesn't begin taking shape until it's about 80-90% dry to loosely blow-dry hair with fingers to remove excess water. Create a lifting action at the root area to give more lift in that area.


When finished, style or complete as desired and use
Flex-Spray versatile hairspray
for flexible hold and finishing.
For fullness throughout the ends, use the
Detangle Brush
by Gloss & Toss and lightly "tease" under sections of hair lifting sections toward the scalp.
---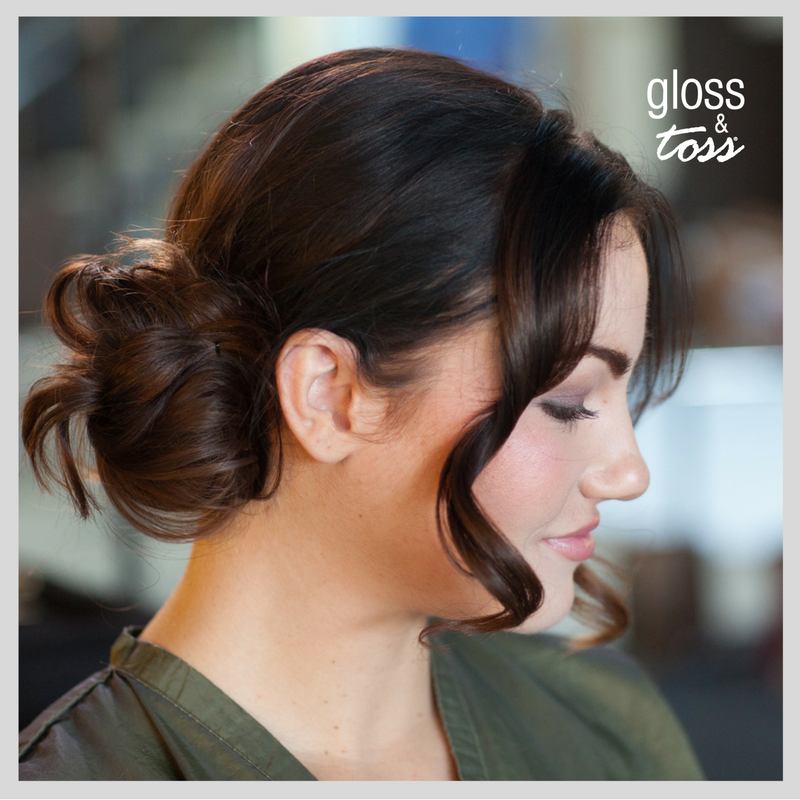 CLASSIC CHIGNON
Beginning on dry hair, use the
Gloss & Toss Detangle Brush or Paddle Brush
(depending on hair density) and gather hair in a ponytail at the nape area. Leave a little hair out around face framing area to style as desired.
Spray perimeter sections of hair with
Flex-Spray
hairspray to keep a smooth finish as you brush. Keep hair brushed closer to scalp for a more smooth look. Hair can be gathered in center or off to one side for a more dramatic effect.
Gather hair with a hair tie the same color (or close to it) as your natural color


Use Gloss & Toss
Sea Salt Spray
(1-2 pumps) through the ends for texture and blow-dry loosely using a scrunching manner.
Wrap hair around the hair tie and pin as you go. Don't be too concerned with "neatness." A loose/tousled result is nice for this style. This makes a great Work-to-Dinner quick style.


Finish with Gloss & Toss
Flex-Spray
for light-hold if desired.
---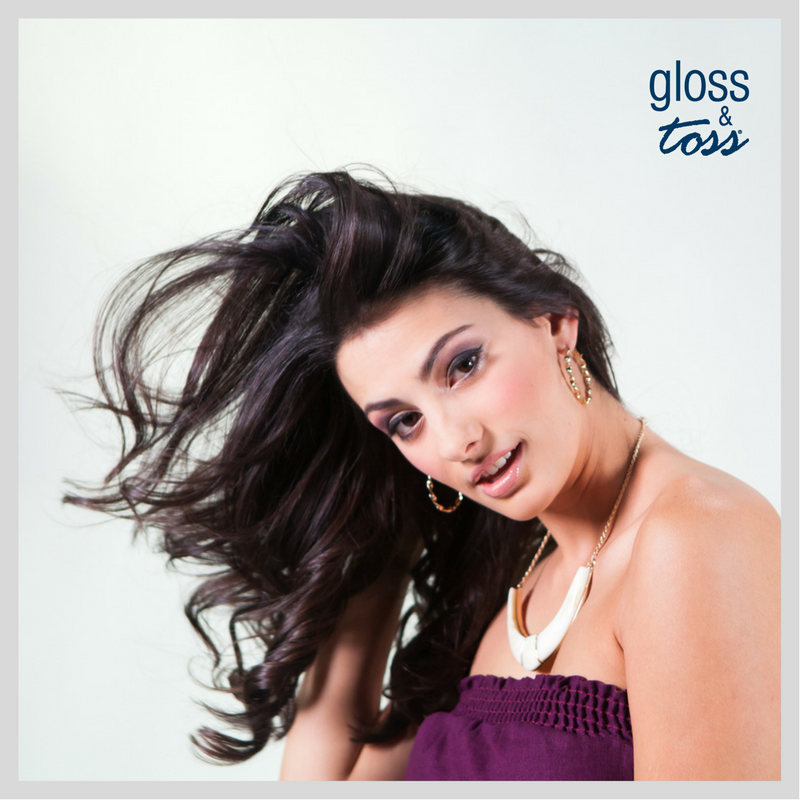 BLOWN-AWAY.
Volume and playful results are easier than they seem. It's not necessarily about perfectly placed hair. Carefree tresses that move with you help create softer styles and results.
On clean/damp hair mist Gloss & Toss
Prep
throughout hair to add strength and shine and to prepare for thermal styling. Prep is a lightweight leave in conditioner and and protector and helps prep hair for styling. Also protects against environmental damage and thermal styling.
Apply Gloss & Toss
Root Lift
at the crown area and work into area with fingertips. Note - product dispenses quickly so move quickly when applying.
If needed for smoothing, apply 1-2 pumps of Gloss & Toss
Shine
to speed up blow-dry time, add smooth/shiny results. For fine hair types, Prep alone (#1 in this style section) may do the trick.
Mist Gloss & Toss
Sea Salt Spray
throughout hair for added texture.

Begin blow-drying hair loosely with hands to remove 80-90% moisture. Lift sections of hair needing volume and aim dryer at these areas to dry and to create more lift/volume.
Use
Gloss & Toss Paddle Brush or Detangle Brush
to dry hair with long strokes aiming dryer down the strands of hair (not up). Pointing the dryer/nozzle downward helps smooth the cuticle layer. Always keep brush moving and never "park" dryer on hair.
For added texture, mist the
Sea Salt Spray
on dry sections and blow-dry those completed sections in a "scrunching" manner.
Complete this look with our amazing
Flex-Spray Hairspray
for workable hold and carefree results. Flex-spray is a lightweight versatile hairspray that helps resist humidity, and gives workable results and "spray and play" style. Never stiff or sticky.
---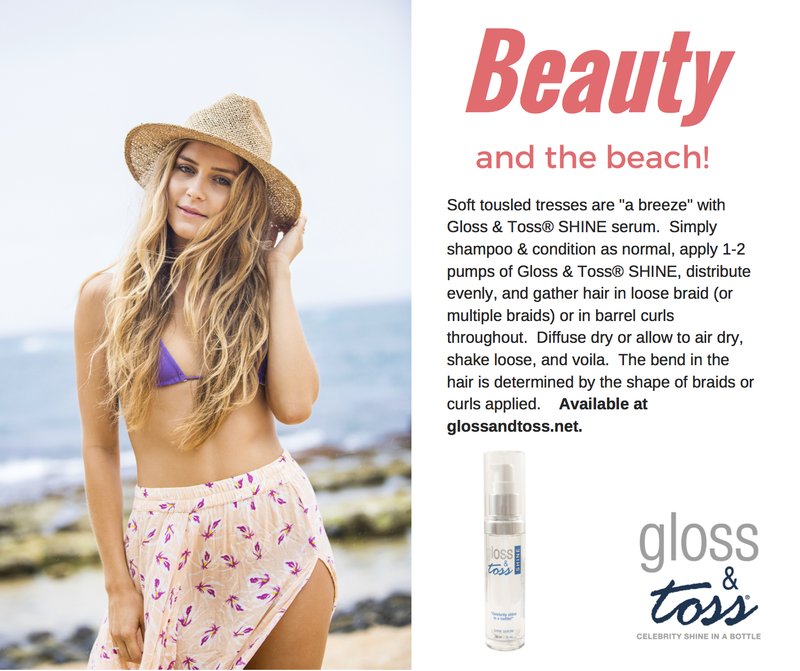 Soft
beachy hair
results are simple with a few key Gloss & Toss products.
-Shampoo & condition with Gloss & Toss Daily Nourish Shampoo & Conditioner.

-Lightly towel-dry and apply Prep to detangle and strengthen hair. Distribute evenly.
-Apply a small amount of Gloss & Toss SHINE mid-sections to ends staying away from scalp/root area
-Apply Gloss & Toss Root Lift at root area if added volume is desired
-Mist Sea Salt Spray throughout hair lightly for textured results and soft finish and scrunch through with fingers
-Wrap hair around fingers to create "barrel curl" and secure each curl to scalp area with classic duck-bill clip.
-Apply a light application of Gloss & Toss Flex Spray over hair to help set.
-Allow hair to air-dry or diffuse dry with hair dryer, remove clips and shake loose
Apply a light amount of Sea Salt Spray to finished look (alternatively Flex Hair Spray) to enhance this tousled look and voila.