Red Carpet Hair Results - Whether You're a Celebrity or Not!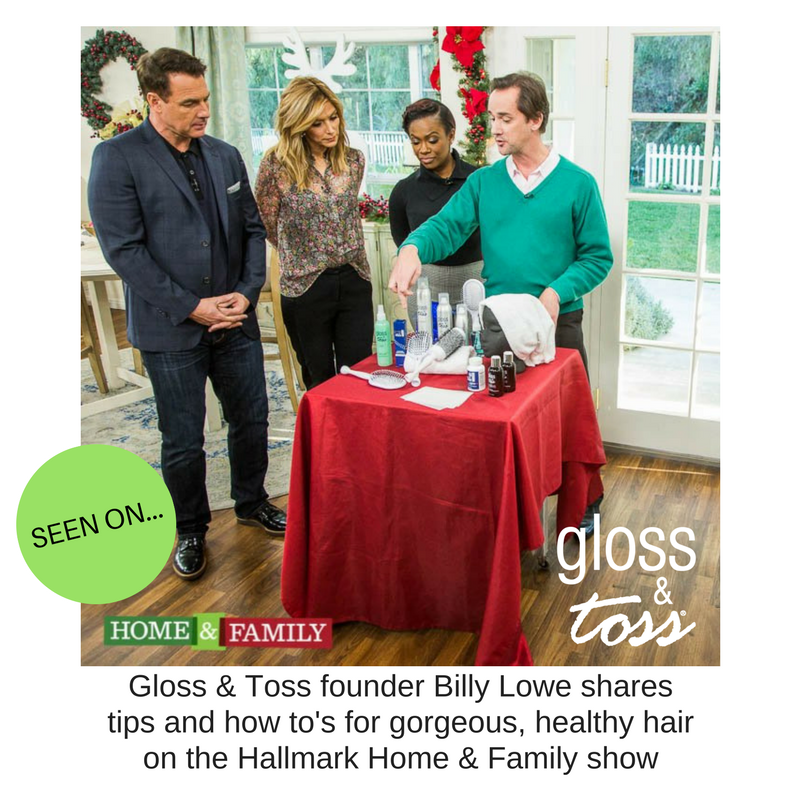 Our hair serum (Shine) started it all. Gloss & Toss Hair Care was developed with our customers in mind! The truth is, not everyone will travel to Los Angeles, Miami or New York in their lifetime but we know that the world is fascinated by Hollywood beauty and those who crate it. Developed by celebrity hair stylist Billy Lowe, we're bringing you the best in today's hair care products, hands-on beauty tips, techniques and trends right from the red carpet.

"I was sitting on set one day thinking of products I'd been using but nothing seemed to measure up. I found some of these 'backstage beauty' items to be heavy, greasy and they made hair absolutely lifeless." Says Lowe. "I told a friend I wanted something lightweight, that clients could put in their hair for glossy results and they loved it so much they would just toss their hair around but I didn't know what I'd call it."
A friend looked at me and said said "You just named it yourself; it's Gloss & Toss!" The rest, is truly history. Ever since, customers around the world have enjoyed the convenience of shopping online for their beauty products, as well as our hair tips and suggestions, beauty news, and so much more. We're on the pulse of all things hair and beauty and we're working hard to deliver outstanding products and content to you.
---
About Gloss & Toss® Founder, Billy Lowe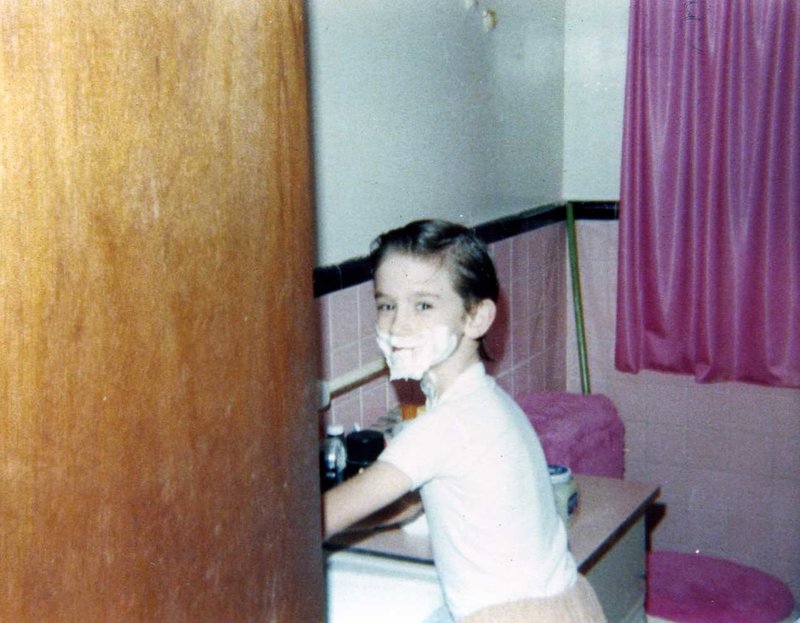 The artistic bend for beauty came early for Gloss & Toss® founder Billy Lowe. Even as a young boy he remembers his desire to style hair but he wasn't given dolls to play with and didn't have the opportunities to pursue the world of beauty. Instead, he trained in classical piano performance and competed professionally for many years. But he remembers his summers with his Grandmother and Wednesdays being double green stamp days at the local Piggly Wiggly supermarket in Macon, GA. "It was like Christmas to go with her," he recalls. Some of the grandkids spent summers with Grandma and we knew that Wednesdays were her grocery days and if we were well behaved she would allow us to get a little something whether it was coloring books or playing cards, or whatever else a kid might want in the grocery store. I remember one Wednesday coming around the corner with a pack of dolls that I had hidden behind my back because I didn't want my cousins to poke fun, and my Grandma knew the troubles and mentions that my mother had presented to life in saying she didn't want me to have dolls as a little boy. So, not certain as to what she'd do, Grandma somehow didn't miss a beat. She took the dolls from me, put them in the shopping cart without making a big deal to the other kids, and she whispered in my ear 'Now let's not tell your daddy, and we'll just leave these at my house. The rest, as they say, is history!"
That desire to beautify everything and everyone around him never disappeared, as many childhood dreams do. Fast forward 20 years and the all-grown-up Billy Lowe primps and preens Hollywood's elite with Gloss & Toss® Hair Care, the darling of the red carpet and television show green rooms alike. The good news for the rest of us is this: What was only available to A-Listers and leading hair stylists is now available to the general public, and Billy couldn't be happier. "Everyone wants to look and be beautiful, and that's why I created Gloss & Toss." Billy says. He's a long ways from (insert city/state) but his creative and artistic talent in making his clients look beautiful transcends time, location, and trendiness. To Billy, everyone is a VIP.

Contributed by Shelly Moench-Kelly*
---
Gloss & Toss Hair Products are "Now!"
Gloss & Toss hair products deliver red carpet results that last and they are among the best in the hair care industry. Leading hair stylists use Gloss & Toss products on and off the red carpet and behind the scenes of Hollywood. These coveted products have been featured in celebrity gifting suites, used by leading Hollywood actors, tops stylists in the beauty industry and of course, loved by customers just like you from around the world. Today Gloss & Toss® has grown and offers many additional hair products including:

Hair and Scalp Healing Oil
and so many others. Customers around the world have come to rely on the excellent formulations, the convenience of shopping online for the best beauty products, and the most amazing results time and time again with products that support healthy, shiny, radiant looking hair.
---
Our Brand Mission
To demystify the world of Hollywood beauty and make products and tips conveniently available online.
We often feel there's a gap between "The Big Screen" and our vanities! Beauty is actually closer (and easier) than most people make it. At Gloss & Toss®, we want our brand to be, (and stay) approachable and we love the feedback our loyal customers give when it comes to care, tips, and treatments for their hair care routine. From our signature product SHINE hair serum to other styling items such as our Dry Shampoo and our FLEX-SPRAY hairspray, we look forward to bringing great products and tips to you. Visit our SHOP page for your haircare needs, and learn quick and easy styling tips from our creative team along the way.

Today, our products are used on location and behind the scenes of leading Hollywood sets such as How to Get Away with Murder, Criminal Minds, Agents of Shield, The Hallmark Home & Family Show (shown above), KCAL News at Noon, Desperate Housewives, Devious Maids, and so many others. As a Cruelty-Free brand, we've also been part of many Cruelty-Free and No Animal Testing Campaigns including styling hair for Mayim Bialik (shown below) for Cruelty Free International. It's no wonder customers around the world love the products especially since they are used by leading hair stylists and beauty experts in top salons, production sets, & media events. Clients everywhere rave about the great results of Gloss & Toss® products, and we trust you'll love the line just as much.

---
No Animal Testing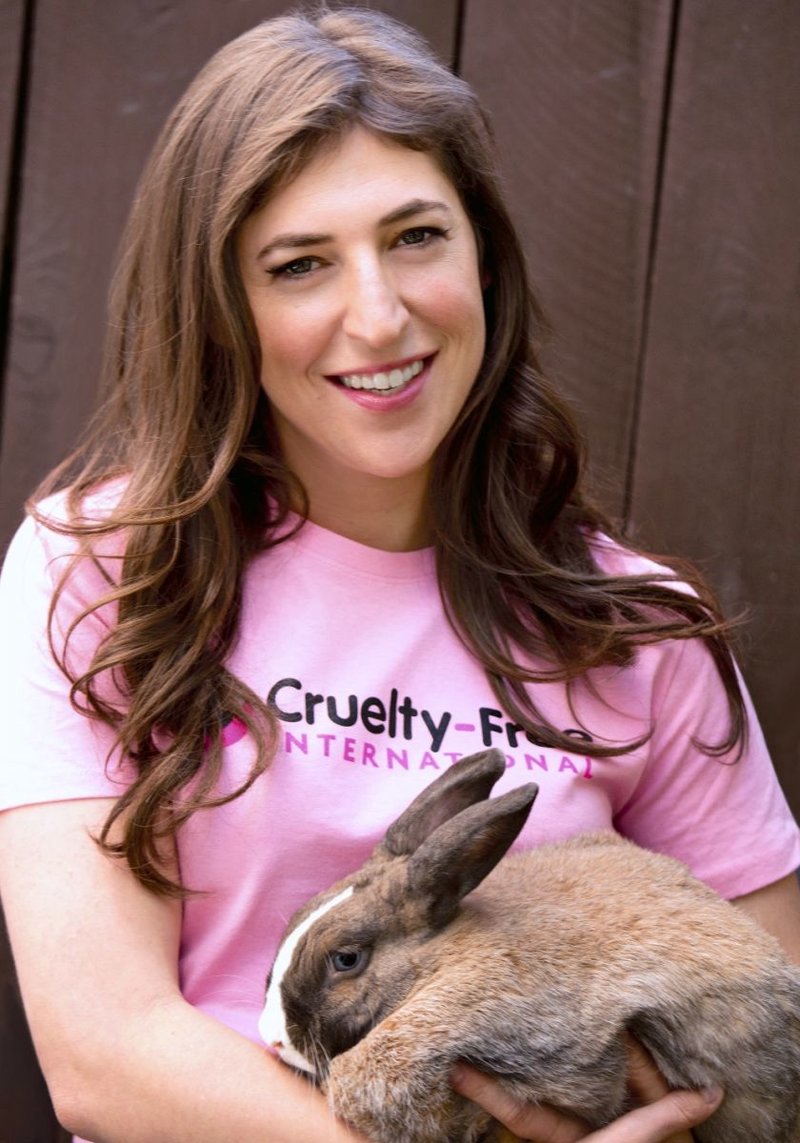 Finally, we are a proud Cruelty-Free Company. Through the years we have worked on countless cruelty-free campaigns including Cruelty Free International with Mayim Bialik (right) as well as other informercials including Amy Smart Leaping Bunny campaigns, Born Free USA fashion shows, and so much more. We do not test on animals, and love the support our clients give because of this policy. We are also proud to be listed in the aavs.org directory and work hard to support education and opportunities that protect animals and their lives against unnecessary testing.
Mayim Bialik (right) for Cruelty Free International.
Hair by Gloss & Toss®. Photo Lesslie Hassler/Cruelty Free International.
Thank you for visiting glossandtoss.net where you can easily order online and catch up on a few red carpet tips and techniques year after year from the red carpet to you. #beglossy
Billy Lowe mini-bio written by Shelly Moench-Kelly. Shelly is a nationally recognized writer, author and contributor to major media outlets specializing in health, beauty and entertainment content. She specializes in ad copy, press releases, ghostwriting, features, interviews, and more. Visit smkwriter.com for more info.